49759 Lance Corporal Andrew Joshua Clark
| | |
| --- | --- |
| Regiment/Service: | Royal Irish Fusiliers (British Army) |
| Died: | 13/02/1919 (Died of Illness) |
| Age: | 21 |

Andrew Joshua Clark was the son of William Clark and Eliza Jane Johnston. Andrew was born about 1898 in Tyrone. The family lived in Bockets, Aghnahoe, Ballygawley, Tyrone. His father was a farmer. Lance Corporal Andrew Joshua Clark was serving with the Royal Irish Fusiliers when he died on 13 February 1919. He was aged 21.The CWGC records he was stationed at "depot". Andrew Joshua Clark was buried outside Dungannon in Upper Clonaneese Presbyterian Churchyard
Andrew Joshua Clark was the son of William Clark and Eliza Jane Johnston. Andrew was born about 1898 in Tyrone.
The 1901 census shows Andrew as 3 years old. His father William was a farmer who was born in Scotland. The family lived with Eliza Jane's mother and sister. They lived in Bockets, Aghnahoe, Tyrone.
The 1911 census records Andrew as 12 years old. He was at school. His father was a farmer. They still lived in Bockets, Aghnahoe, Ballygawley, County Tyrone.
Family: William Clark, Eliza Jane Clark (nee Johnston), Andrew J Clark (born about 1898), William A Clark (born about 1900), Alfred Clark (born about 1902), Herbert Clark (born about 1903), Maggie Clark (born about 1908), John Clark (born about 1909), Samuel Clark (born about 1910).
Andrew Clark enlisted on 20th January 1919. Almost immediately, he contracted pneumonia.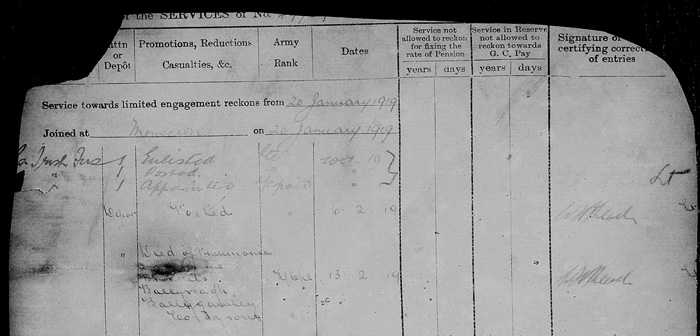 Lance Corporal Andrew Joshua Clark was serving with the Royal Irish Fusiliers when he died of pneumonia on 13 February 1919. He was aged 21.
The CWGC records he was stationed at "depot".
Andrew Joshua Clark was buried outside Dungannon in Upper Clonaneese Presbyterian Churchyard

Relevant Dungannon Area Locations
No
Location
Region
Location Notes
Longtitude
Latitude
1
Bockets, Aghnahoe
Ballygawley
Census listing in Bockets, Aghnahoe
54.496066
-6.965017