Queens University Belfast
No
Pic
Gr.
Page
Service No
Rank
Name
Regiment / Service
Battalion
Date Of Death
1
2nd Lt
Frizelle, Edwin Samuel
Lancs Fus
05th Batt
03/08/1915
2
2nd Lt
Smyth, Gordon Dill L
R Irish Fus
13th Batt
16/08/1917
3
Lieut
Harper, Ernest Magowan
R Mun Fus
07th Batt
09/08/1915
4
Capt
Lyons, William Thomas
R Wel Fus
10th Batt
03/03/1916
5
78022
Sq Lead
Pringle, Terence Alexander
RAF VR
null
16/01/1944
6
70
87080
Capt
Greeves, Hubert Gough
RAMC
181 A Fld Amb
10/07/1943
7
Capt
Cummings, William Gordon
RAMC
null
18/05/1917
8
2nd Lt
Johnston, John Ernest
South Staff
04th Batt
10/07/1916
9
Lieut
Harper, Edgar Henry
South Staff
08th Batt
10/07/1916
10
Chap
Wilson, William Andrew
YMCA
null
20/03/1918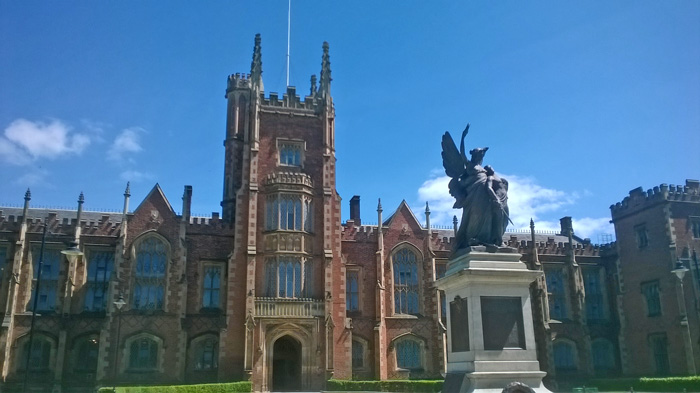 Queen's University (informally Queen's or QUB) is situated at University Road, Belfast. Queen's is a public research university which was chartered in 1845, and opened in 1849 as "Queen's College, Belfast".
Throughout the two wars it was the main university in the north of Ireland. It had an Officers' Training Corps.
Queens also has a Book of Remembrance.
From the Belfast Newsletter dated 27th October 1917: Officers' Training Corps
A class of candidates for commissions is to commence work at Queen's University in a few days., and young men of suitable education and physique are invited to offer themselves for training, The Officers' Training Corps is recognised by the War Office for preparing for admission to a cadet unit, and its classes are open to men who are between 18 and 30 years of age, and have a good secondary school education. The course at Queen's University extends over three months, and the subjects include drill, musketry, map-reading, intelligence work and tactics. Full particulars as to membership may be got by personal application at the drill hall of the university.
The Queen's War Memorial, which was erected in memory of those members of the University and its OTC who died in World War One, was first dedicated on 21 July 1924 by the Duke of York (who later became King George VI) accompanied by the Duchess of York. The Memorial was designed by Sir Thomas Brock. However, he died before he could finish the work and the Memorial was completed by Mr F Arnold Wright. It is a depiction in bronze of a winged Victory sustaining a fallen youth. All of the names of those who died in conflict during this War are recorded on bronze tablets on the Memorial.
In 1947 it was decided that the names of those members of the University who had died in conflict during World War Two should also be inscribed on bronze tablets to be placed on the plinth of the War Memorial. The re-dedication of the War Memorial took place on 8 November 1950 in the presence of Field-Marshal Viscount Alanbrook, Chancellor of the University.
Institute / Book References and Links