Ballygawley War Dead Book
No
Pic
Gr.
Page
Service No
Rank
Name
Regiment / Service
Battalion
Date Of Death
1
8
8649
Pte.
Lucas, Ernest Lionel
Cheshire
01st Batt
24/08/1914
2
20
2730
Pte.
McCluskey, Thomas
Connaught
06th Batt
03/02/1916
3
12
2599
Pte.
Glenn, William David
Irish Gds
01st Batt
01/02/1915
4
60
9482
L/Corp
Rainey, William John
Irish Gds
02nd Batt
04/05/1918
5
64
11359
Pte.
Mulgrew, Patrick
Kings Lpool
04th Batt
10/10/1918
6
14
14536
Pte.
Givan, Mervyn Ross
L. Strathcona
null
24/05/1915
7
30
18619
Pte.
Montgomery, Thomas
M.G.C
109th Comp
01/07/1916
8
16
29153
Pte.
Murray, Charles
R Dub Fus
07th Batt
09/11/1915
9
50
4226
Pte.
Conroy, James
R Inn Fus
07th Batt
19/08/1917
10
26
17531
L/Corp
Henderson, William
R Inn Fus
09th Batt
01/07/1916
11
32
27755
Pte.
McMaster, Joseph
R Inn Fus
09th Batt
01/07/1916
12
34
17625
Pte.
McMullen, Samuel
R Inn Fus
09th Batt
01/07/1916
13
36
19601
Pte.
Scott, Joseph
R Inn Fus
01st Batt
01/07/1916
14
18
11042
Pte.
Rainey, Robert
R Inn Fus
09th Batt
22/11/1915
15
48
29811
Pte.
McKeown, Thomas
R Inn Fus
11th Batt
16/08/1917
16
40
25705
Pte.
McKeown, Robert
R Inn Fus
09th Batt
25/06/1917
17
56
29586
Pte.
Murray, Robert John
R Inn Fus
07th Batt
05/03/1918
18
58
23648
Pte.
Graham, Robert
R Inn Fus
09th Batt
29/03/1918
19
62
24988
L/Corp
Droogan, William John
R Inn Fus
06th Batt
03/10/1918
20
66
31898
Pte.
McFarlane, Mitchell
R Inn Fus
Depot
01/11/1918
21
10
3515
Sgt.
Cairns, John
R Inn Fus
02nd Batt
31/10/1914
22
76
6984687
Fusilier
Robinson, Joseph
R Inn Fus
06th Batt
07/04/1943
23
68
49759
L/Corp
Clark, Andrew Joshua
R Irish Fus
03rd Batt
13/02/1919
24
78
6976531
Fusilier
Kerr, Thomas David
R Irish Fus
02nd Batt
14/11/1943
25
42
3039
Pte.
Murray, Francis
R Irish Reg
06th Batt
12/08/1917
26
24
14419
Sgt.
Deane, Robert
R Irish Rif
10th Batt
01/07/1916
27
46
2980
R/man
Murray (Berney), Patrick
R Irish Rif
01st Batt
16/08/1917
28
74
653086
A/man
Cousins, Austin
RAF
null
15/11/1940
29
72
7902996
L/Corp
Pearson, Patrick
Roy Tank Reg
null
07/10/1940
Drew Robinson, from Ballygawley, started researching his book 'Ballygawley War Dead' in 2007. The Ballygawley area has few memorials to its war dead and they have been, until now, mostly forgotten.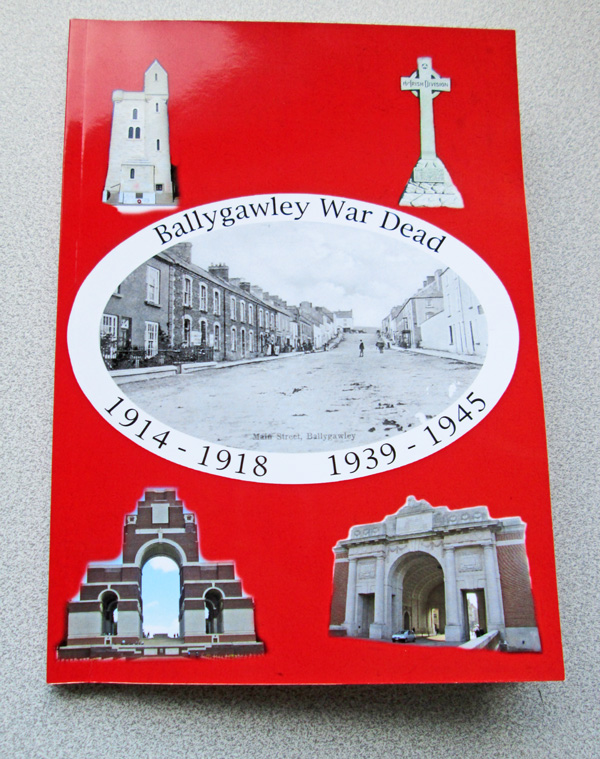 The Ballygawley War Dead book lists 29 casualties in all, including four from the 2nd World War.
The book was released in March 2015 and sold out its first run in just two weeks. A second run was ordered and the book is now available again.
The book can be obtained from Drew himself and from Kirkland's shop on the main street in Ballygawley.
Many of the photos and research on this website relating to the Ballygawley men have come directly from Mr Drew Robinson and we are extremely grateful for his generosity in sharing his resources.
Institute / Book References and Links