| | |
| --- | --- |
| Region : | Arras, Pas de Calais, France |
| Latitude : | 50.37940 |
| Lontitude : | 2.77379 |
| CWGC Link : | 87900 |

The Vimy Memorial overlooks the Douai Plain from the highest point of Vimy Ridge, about eight kilometres northeast of Arras on the N17 towards Lens. The memorial is signposted from this road to the left, just before you enter the village of Vimy from the south. The memorial itself is someway inside the memorial park, but again it is well signposted.


View Full Screen in Google Maps
No
Rank
Name
Service No
Regiment / Service
Date Of Death
Grave Ref
1
Pte.
Abbott, Vivan H C
646187
Canadian Infantry
21/08/1917
No Ref
2
Pte.
Carson, Andrew James
400738
Canadian Infantry
21/11/1916
No Ref
3
Pte.
Conlon, Benjamin
405610
Canadian Infantry
22/09/1916
No Ref.
4
Pte.
Givan, Mervyn Ross
14536
Lord Strathcona's Horse (Royal Canadians)
24/05/1915
No Ref.
5
Pte.
Hogg, William
875269
Canadian Infantry
28/04/1917
No Ref.
6
Pte.
Jones, James Robert
925805
Canadian Infantry
16/08/1917
No Ref.
7
L/Corp
MacLurg, William
475368
Canadian Light Infantry (Princess Patricia)
15/09/1916
No Ref
8
Corp
McCombe, John Robert
53364
Canadian Infantry
15/09/1916
No Ref.
9
Pte.
Millar, James
160444
Canadian Infantry
03/05/1917
No Ref.
10
Pte.
Ramsay, John
116058
Canadian Infantry
21/08/1917
No Ref.
11
Pte.
Scott, Robert Henry
74281
Canadian Infantry
15/09/1916
No Ref.
On the opening day of the Battle of Arras, 9 April 1917, the four divisions of the Canadian Corps, fighting side by side for the first time, scored a huge tactical victory in the capture of the 60 metre high Vimy Ridge.
After the war, the highest point of the ridge was chosen as the site of the great memorial to all Canadians who served their country in battle during the First World War, and particularly to the 60,000 who gave their lives in France.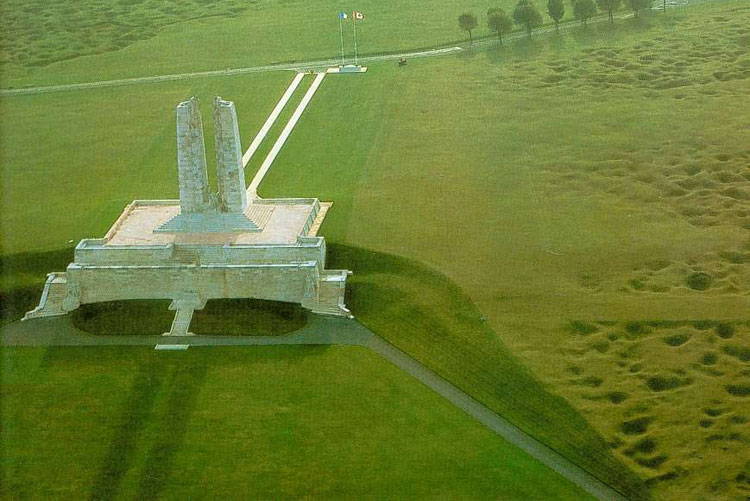 It also bears the names of 11,000 Canadian servicemen who died in France - many of them in the fight for Vimy Ridge - who have no known grave.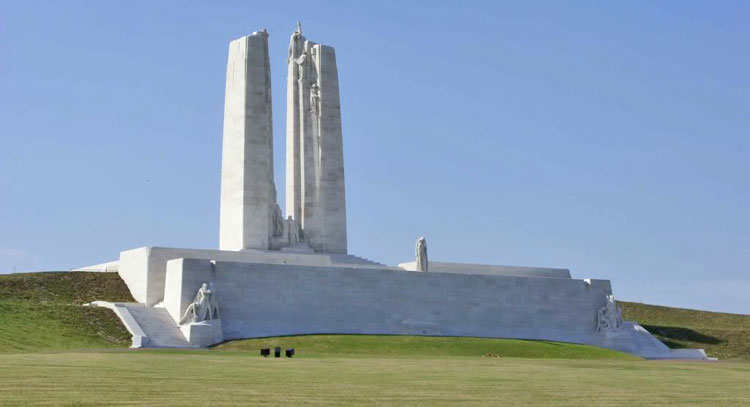 The memorial was designed by W.S. Allward. It was unveiled by King Edward VIII on 26 July 1936.