| | |
| --- | --- |
| Region : | Basra, Iraq |
| Latitude : | 30.411509 |
| Lontitude : | 47.545949 |
| CWGC Link : | 57200 |

Basra is a town on the west bank of the Shatt-al-Arab, 90 kilometres from its mouth in the Persian Gulf. The cemetery is about 8 kilometres north-west of Basra.


View Full Screen in Google Maps
No
Rank
Name
Service No
Regiment / Service
Date Of Death
Grave Ref
1
Capt
Tackaberry, John Bailey
Indian Medical Service
25/03/1917
Grave V-U-17
During the First World War, Basra was occupied by the 6th (Poona) Division in November 1914, from which date the town became the base of the Mesopotamian Expeditionary Force.
A number of cemeteries were used by the MEF in and around Basra; Makina Masul Old Cemetery was used from December 1914 to October 1916 and the Makina Masul New Extension was begun alongside the old cemetery in August 1917. These two sites, enlarged later when more than 1,000 graves were brought in from other burial grounds, now form Basra War Cemetery.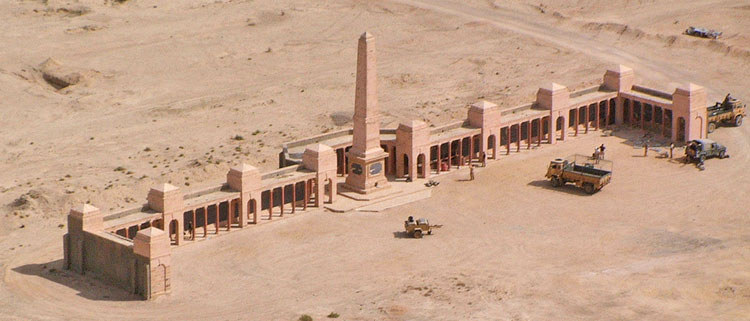 The cemetery now contains 2,551 burials of the First World War, 74 of them unidentified. The headstones marking these graves were removed in 1935 when it was discovered that salts in the soil were causing them to deteriorate. The names of those buried in the graves affected are now recorded on a screen wall.
The cemetery also contains the Basra (Tanooma Chinese) Memorial, commemorating 227 unidentified casualties of the Chinese Labour Corps who were attached to the Inland Water Transport during the First World War. A panel in their memory was added to the screen wall when it became evident that their graves in Tanooma Chinese Cemetery could no longer be maintained.
During the Second World War, Basra was the scene of fighting from 2 - 7 May 1941 when Iraqi forces were driven from the town, which then became a base for Commonwealth forces.
Basra War Cemetery was used once again and after the war, further graves were brought in from other burials grounds in Iraq and Iran. There are now 365 Second World War burials in the cemetery. In addition, there are 36 war graves of other nationalities, many of them Polish, and 16 non-war burials.
Directly opposite Basra War Cemetery is the Basra Indian Forces Cemetery containing burials of both wars, and the Basra Cremation Memorial commemorating Indian casualties of the Second World War whose remains were cremated in accordance with their faith.